Leicester Hindu temple aims to minimise traffic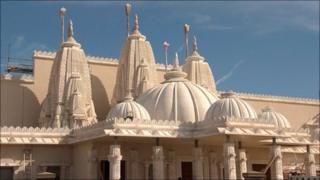 The management committee of a £4m Hindu temple in Leicester, which is due to open in October, has vowed to keep congestion in the area to a minimum.
Some residents have complained the BAPS Shri Swaminarayan Mandir, on Gipsy Lane, is being built on a busy road and would attract traffic problems.
Spokesman Sanjiv Patel said the committee was encouraging worshippers to walk, cycle or use public transport.
The Mandir, which was approved by the council in 2008, opens on 9 October.
Mr Patel said the temple, which features three sikhar towers - details typical of temple architecture in northern India - would have more than 100 car spaces on site for devotees and visitors.
He said they also planned to use other car parks in the area to minimise traffic disruption.
"For major festivals like Diwali we plan to use Soar Valley School's car park and provide a shuttle service to the Mandir."
However, he added the vast majority of the congregation would not travel by car because "we're in the heart of the community".
A city council spokesperson said: "The application was advertised by sending letters to neighbouring homes and businesses as well as putting public notices near the site and in the local press.
"We also informed people who had made comments and representations on the application about the decision once it had been made."
Mr Patel said the new temple would replace the Baps Shri Swaminarayan Mandir on St James Street, in the city centre, which had no parking.
The London-based charity, BAPS Swaminarayan Sanstha UK, and members of the Hindu community have funded the project.