Leicester railway station to get £3.5m improvement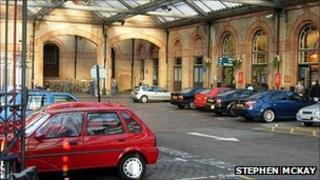 A £3.5m refurbishment of Leicester railway station has been given the go-ahead by the city council.
The revamp will see half of the station's forecourt pedestrianised along with improvements to the booking office, platforms and footbridge.
Network Rail said it hoped to have the work completed by next summer.
Patrick Kitterick, chairman of the council's planning committee, said the changes would make the station better organised and more attractive.
He said: "I think anyone who uses the station frontage at the moment realises it's unorganised, it could be clearer and more friendly to pedestrians.
"I think what we've seen in these plans is an improvement for pedestrians and customers. The whole station will look a lot more attractive to people coming into and departing the city."
A 9m (29ft) high glass partition will divide the Grade II listed building's forecourt down the middle.
Terry Kirby, chairman of the Campaign for Better Transport in Leicestershire, said: "It will improve what is on offer at present quite significantly and brighten up what is a very dull area."
However, Stuart Bailey, chairman of Leicester Civic Society, said the amount of stainless steel being used in the redesign was "excessive".