Leicester's Abbey Mills demolition plans criticised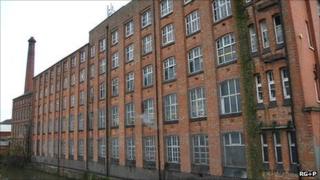 Historians say they will fight plans to demolish a Victorian spinning mill in Leicester.
Proposals to demolish Abbey Mills have been submitted to the city council as part of a £4.8m building scheme.
The Civic Society said it was one of Leicester's landmark factory buildings and losing it would be "totally unacceptable".
Developers said the plans would offer affordable accommodation which was in dire need in the city.
Housing association LHA-ASRA had hoped to convert the building into flats but said it was no longer viable in the current financial climate.
It wants to demolish the building instead and replace it with an eight-storey modern apartment block with a total of 24 one and two-bed apartments for rent.
'Particularly sensitive'
It also wants to build 11 four to five-bed houses for sale on the site.
Leicester Civic Society's chair, Stuart Bailey, said the building on the Grand Union Canal, where wool was spun from the latter half of the 19th Century, was an important reminder of Leicester's heritage.
"This is a particularly sensitive building in a particularly sensitive site.
"It is almost the first building tourists coming to Leicester from the north see."
Ross Willmott, senior city councillor, said he hoped the building could be saved but added the council would have to listen to the developers.
"This building can be kept and it can be refurbished, that was the original plan. It's now about whether there is the money to do it.
"The building next door had a £7m grant from the Homes and Communities Agency. If we get that sort of money for this building I don't see why it doesn't go ahead."
There is a 28-day public consultation period from Wednesday.
LHA-ASRA hopes to start work on the building project in October 2012.