Mark Cornwall pleads guilty over Midlands robberies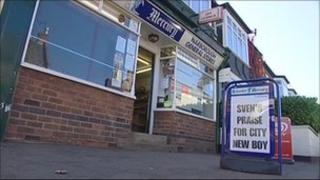 An armed robbery trial has ended after one of the defendants pleaded guilty at Leicester Crown Court.
Mark Cornwall, 36, of Arundal Road, Coventry, was accused of carrying out armed robberies at 16 convenience stores and newsagents.
The robberies took place at stores in Leicestershire, Oxfordfordshire, Northamptonshire and Warwickshire from April to September 2010.
Cornwall's brother, Jason, 25, was found not guilty.
The court was told shop workers were threatened with a variety of weapons including a crowbar, baseball bats and knives.
The gang then searched the premises for cashboxes and safes.
The robberies were carried out in the morning or late at night when the shops were either opening or closing, the court was told.
A third defendant, Dustin McCormack, 33, of Robertson Close, Coventry, pleaded guilty to conspiracy to commit armed robbery at the start of proceedings on Tuesday.
McCormack and Cornwall will be sentenced at a later date.