Shepshed incinerator rejected by planning council officers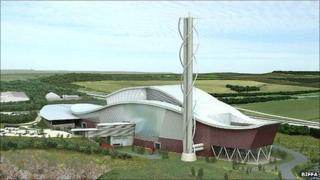 A second application to have a waste incinerator in Charnwood should be refused, suggested planning officers at Leicestershire County Council.
They said there was no urgent need for the facility on the Newhurst Quarry site near Shepshed.
Waste company Biffa, whose first application was rejected, said it was disappointed at the recommendation.
The final decision will be made at the authority's development board meeting on 10 October.
Stefan Ogrodzinski, from Charnwood Against Incinerator, said: "It's very good news that the officers have recommended refusal, but still the council have to make their own decision.
"It's really important we keep up the pressure until then.
"We trust they'll follow the officers' recommendation and refuse the planning application outright."
Mr Ogrodzinski, who lives and works in Shepshed, said the plans were rejected "on the grounds of need and visual impact".
Appeal hearing
He said Leicestershire was "doing very well" in recycling and the plant's visual impact would be "detrimental" to the ancient woodland in Charnwood Forest.
"This particular incinerator is huge, you'd be able to see it for miles around," he added.
In a statement Biffa said: "We are disappointed in the recommendation in the report and remain convinced that we have a strong case on planning grounds, but await the committee's final decision.
"If that remains unfavourable, we would need to rely on our appeal hearing which would commence in November and will therefore await the decision emanating from that."
The company had offered funding to develop the area, including restoring two listed structures and woodland planting within nearby Garendon Park.