Gorse Hill City Farm concerned over holiday roadworks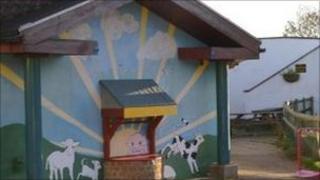 A Leicester urban farm fears nearby roadworks during the school holidays will deter visitors.
The city council plans to carry out work on Anstey Lane during half-term to avoid disruption at two nearby schools.
But staff at Gorse Hill City Farm said they were worried about losing passing trade.
A spokesman for Leicester City Council said access would be maintained during the work.
Busy period
Andy Thomas, city council traffic manager, said: "We have agreed with the farm that it won't be impeded by the roadworks and we are going to put up signs at both ends of the road.
"People are always concerned when road works take place, but if we don't do the work then the road will collapse."
Tom Chambers, assistant manager at Gorse Hill City Farm, said a lot of their business comes from passing trade.
"I know they've got to do the work, but it's a bad time for us - it's the last week we make any income before winter," he said.
The farm charity said it could lose up to 50% of its trade because of the roadworks.
The work, which should take a week, will start at the Glenfrith Road end of Anstey Lane on 17 October.
Gorse Hill City Farm gets more than 60,000 visitors each year and is home to a wide variety of animals including rare-breed pigs, cattle, sheep, guinea pigs and rabbits.