Leicester hospitals parking fees to increase in November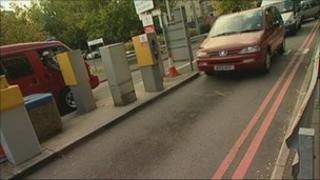 Leicestershire hospitals will charge more for parking after the NHS trust approved new fees.
The hourly parking charge will rise from £1 to £1.50 at University Hospitals of Leicester Trust and long-stay rates will also rise.
The trust now expects to raise an additional £500,000.
The trust, which operates Glenfield Hospital, Leicester General and Leicester Royal Infirmary, will implement the new fees in November.
'Salary sacrifice'
Trust spokesman Abigail Tierney said the changes followed a public consultation and were "very difficult in the current economic climate".
Parking charges have not increased at Leicester Royal Infirmary since 2003 and have not increased at the two other hospitals since they were introduced in 2007.
Staff will be allowed to join a "salary sacrifice scheme" in which parking costs are deducted directly from their pay.
The increases are part of plans to help tackle an £8m overspend at the hospitals.