Market Harborough cinema-goers to wear headphones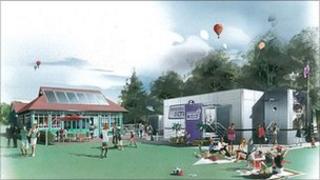 Film lovers will be asked to wear headphones at a proposed Leicestershire town's cinema if plans are approved.
Concerns about noise pollution were raised by council officers inspecting the Market Harborough site.
Campaigners said they were doing everything possible to get the go-ahead for the single screen, 100-seater venue off St Mary's Road.
Wireless headphones, costing £2,500 to install, were seen as novel solution to ease concerns over noise.
Alastair Campbell, one of the people behind the not-for-profit venture, said: "It will, I believe, be the only cinema of its kind in the world."
Plans for the Harborough Screen will go before the district council on 11 October.
Public support
A campaign for a cinema in the town began in August 2007 and within two months 8,000 Harborough residents had signed a petition in support of the idea.
A decommissioned mobile cinema was donated to the community project two years ago and campaigners have so far raised nearly £40,000 for its refurbishment.
It will be fixed in place if planning permission is granted.
Mr Campbell, who got involved with the campaign four years ago, said a big screen was the only thing the town lacked.
He said: "I've got two boys I have to drive to Leicester to see films. It would be great if they could walk to a venue here.
"A common facility that can be used by both young and old will be good for the community."
Market Harborough has not had a big screen since 1978.
The new cinema will open early in 2012 if approved.