Leicester Royal Infirmary A&E 'may close under pressure'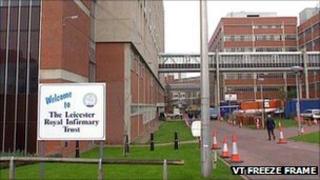 A health campaigner has said he fears Leicester Royal Infirmary's emergency department could close this winter because of high demand.
Zuffar Haq said the hospital's plans to deal with increased patient numbers in winter were not "robust enough".
NHS Leicester City Primary Care Trust (PCT) said there was "some elasticity in the system" to tackle the rise in patients during the busy period.
The PCT has said it would only shut Leicester's A&E as a last resort.
'Extreme emergencies'
Mr Haq, who chairs the Leicester Mercury Patients Panel, said even though it would only happen in "extreme emergencies" the infirmary's accident and emergency centre could "struggle to stay open if it's anything like last year".
"It could close for one, two or maybe even more hours," he said.
"Maternity services in Leicester have shut on many occasions because there's been too many people coming in to have babies," he added.
Catherine Griffiths, chief executive for NHS Leicester City and NHS Leicestershire County and Rutland, said an external group had found its plans to be "robust".
"We're better placed this year in terms of managing the peaks that we know are ahead of us," she said.
'Extended hours'
"We have a winter plan, which has levels of escalations depending on different scenarios. The community hospital can open extra beds, so there's some elasticity in the system to cope with peaks."
Mr Haq said the pressure on the A&E department was made worse by some patients occupying beds.
"There was something like 200 beds with patients who didn't actually have to be in hospital," he said.
He said he believed this was because GPs were "not doing enough" to keep their patients out of hospital.
Prof Azhar Farooqi, chairman of the new Leicester City Commissioning Group, said they had expanded GP services.
"We've offered extended hours and opened an urgent care centre and a walk-in centre, which sees thousands of patients a year who would otherwise have to go to hospital," he said.