Mayor of Leicester claims £15m government funding error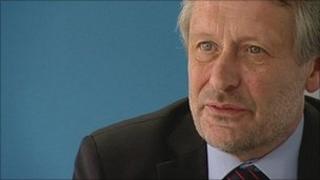 Leicester is losing out on £15m worth of government funding every year because official population figures are wrong, it has been claimed.
Mayor Sir Peter Soulsby said the Office for National Statistics had underestimated growth since 2001.
The official figure of 306,631 was about 32,000 short and this affected budget decisions, he added.
The city council is to hold its own count and the results will be presented to the government.
Service fear
Sir Peter claimed services like schools, hospitals and care for the elderly were "under-resourced" because so many residents in Leicester had not been allocated funding.
"The city council loses out on millions of pounds that it needs and people lose out in their right to vote," he said.
In a statement the Office for National Statistics said: "Population estimates and projections are produced using well established demographic techniques.
"The data sources underpinning these estimates and projections are the best available on a nationally consistent basis down to local authority level and include estimates of internal and international migration.
"Our website shows the components of change in each year's population estimate, including the migration elements."
'Survey of Leicester'
Sir Peter said: "We need to have a proper survey of the number of people in the city."
He added that he would make a "powerful case for Leicester" to the government from the results of his survey, which will be piloted before Christmas and carried out in 2012, "to make sure Leicester's people get what they deserve".
A spokeswoman for the Department for Communities and Local Government, which funds local councils, said: "We use the best data that is available on a nationally consistent basis across all authorities at the time we calculate the formula grant settlement.
"Funding is being directed to where it is needed most so councils can protect the front-line services and protect taxpayers' interests."
Katie Ghose, chief executive for the Electoral Reform Society, said: "It's worrying for Leicester because it means the council can't provide services and will lose out on cash from central government and for the voters it means they don't get to have their say at election time."
Results of the 'Survey of Leicester' are due out next summer, the same time as the Census 2011 figures are released.