Second Shepshed incinerator plan rejected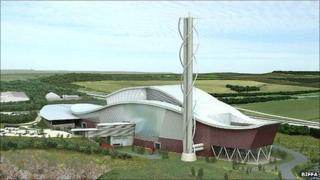 A second application to build a waste incinerator in Leicestershire has been rejected by the county council.
Waste company Biffa wanted to build the facility, which would burn 300,000 tonnes of rubbish a year to generate power, on the Newhurst Quarry site near Shepshed.
The county council said the scale of the development was not appropriate for the area.
Biffa said it was disappointed by the decision and was appealing.
David Jennings, head of the county council's development committee, said: "It's just a few days less than a year since we had the last application before us and it's just a re-run of what we refused a year ago apart from some very minor alterations.
"There are some advantages, such as disposing of a lot of waste, providing jobs and providing enough power to power 42,000 homes but the minuses far outweigh the pluses when you consider the size of the building."
Roy Kershaw, secretary for Charnwood Against the Incinerator Campaign (Chain), said he was pleased with the decision but would be holding another meeting ahead of Biffa's appeal.
In a statement Biffa said: "It's a disappointing decision given the strength of the case, but we now look ahead to the appeal hearing on the original application which starts next month.
"This type of waste material should not continue going to landfill on environmental, financial and legal grounds and it also provides an important source of power generation."
The appeal hearing is on 8 November.