Leicester Belgrave flyover 'may be demolished'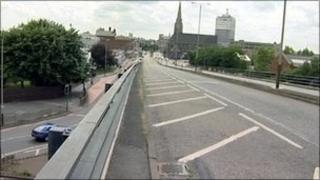 A Leicester flyover could be demolished as part of plans to improve the area, the city council said.
Leicester's assistant mayor said it was one of many ideas to get more pedestrians to the Belgrave Road area.
Traders on the Golden Mile said it could have a negative effect on their businesses as people use the overpass as a "gateway" to the road.
Leicester City Council said although the flyover was structurally safe, the edges were weakening and leaking water.
Ted Cassidy, assistant mayor of Leicester, said: "We're looking at the possibility of removing the flyover, which is a gash between the city centre and this area, so we're going to be doing a lot over the next few years.
"Everybody's suffering from the recession and I think the shopkeepers on Belgrave Road know that, but if we can help by shop-front improvement, investing in the roads, making the pedestrian's experience better - that encourages people to come here."
'Pedestrian experience'
Shopkeepers on the Golden Mile said they were keen to work with the council to improve trade.
Alistair Reed, the city council's strategic director of development culture and regeneration, said it was not currently a plan to remove the overpass but an "idea that's very much worth further consideration".
"The two solutions that we would look at, if we took the flyover down, is how much traffic would we get through a very much revised junction underneath and what traffic would be diverted down other ways into Leicester," he said.
"However, it's not something we would do if was to cause major traffic problems and we would do a lot of study and consultation beforehand."
Mr Reed said Leicester City Council needed to find out whether demolishing the flyover could be achieved and the cost implications of the project.
In 2002, an assessment of the structure was carried out and maintenance repairs to the expansion joints were done in 1998.
"As a structure, it'll require long-term maintenance and that's true for any concrete structure that was built between the 1960s and 1970s," Mr Reed added.