Blaby first time buyers to get council help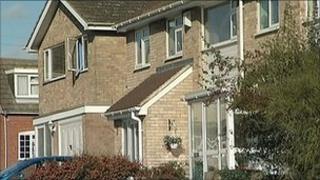 First time house buyers are being offered help with deposits by a bank and a Leicestershire district council.
The Local Lend a Hand scheme, set up by Blaby District Council and Lloyds TSB, offers mortgages which require a 5% deposit - at least half the average.
Customers must show they can afford repayments and the council guarantees up to 20% of the mortgage amount.
The council said the scheme should also assist the wider housing market and relieve demand on social housing.
Council leader Ernie White said: "To an individual or a couple looking to buy a house it could make the difference between having to save £40,000 for a deposit and having to save £7,500 - it's that magnitude of help for young people.
"They have to show they can afford the repayments but the bank takes care of that but with the council and the bank working together I think we can make a real difference here."
Local Mortgage Manager for Lloyds TSB Rebecca Osborne said: "We already have Lend a Hand, where family and friends can help out with increased deposits.
"However, this is with the local council, who will step in and help with the deposit, giving the first time buyer more of a chance to get on the property market."
The authority's guarantee will be called upon if the borrower failed to make the repayments or breached the terms of the mortgage and the property was eventually sold at a loss.
Those interested can apply through a branch of Lloyds TSB.