Three 'dangerous' dogs seized in Leicester raid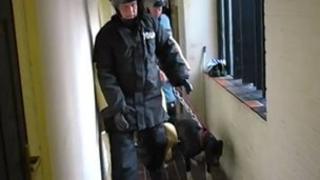 A 42-year-old man has been arrested in Leicester on suspicion of breaching a Dangerous Dogs Act order - the first arrest of its kind in the county.
Police seized three pit bull-type dogs at the man's home in Beaumont Leys at about 08:00 BST on Wednesday.
His flat was also searched under the Misuse of Drugs Act.
Offenders can face up to six months in prison and courts also have the power to destroy an animal if they feel it is a danger to public safety.
The 1991 act regulates four breeds of dogs: pit bull terriers, Japanese tosa, dogo Argentino and the fila Brasileiro.
Under the act, owners have to keep their dogs muzzled and on a lead in public. The dogs are not allowed to breed.
Inspector Kevin Morris said: "I would urge all owners of pit bull-type dogs to get their animals registered otherwise they run the risk of having their dogs seized."
The man remains in police custody.