Leicester man charged under Dangerous Dogs Act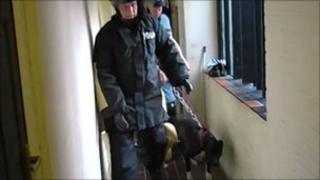 A 42-year-old Leicester man has been charged with possessing a dangerous dog after a police raid.
Police seized three pit bull-type dogs from the man's home in Beaumont Leys at about 08:00 BST on Wednesday.
The man has been released on bail and will appear at Leicester Magistrates' Court on 2 November.
The 1991 Dangerous Dogs Act regulates four breeds of dogs: pit bull terriers, Japanese tosa, dogo Argentino and the fila Brasileiro.
Offenders can face up to six months in prison and courts have the power to destroy a dangerous animal.
Under the act, owners have to keep their dogs muzzled and on a lead in public.