Leicester investment 'at 10-year low'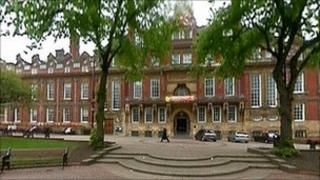 Investment in jobs and regeneration in Leicester has fallen to a 10-year low, according to a city council report.
The Overview Select Committee said in 2001 the council spent about £1.5m boosting the economy, but this had fallen to £168,000 this year.
Labour Councillor Ross Willmott said the axing in July of regeneration company Prospect Leicestershire, which he helped create, had harmed the city.
Mayor Sir Peter Soulsby said he was committed to bringing in investment.
Mr Willmott, the committee's chair, said: "The report was very clear that regeneration takes about 10 years, so we need to start planning now, even though we're in a recession, because those plans will take 10 years.
'100% committed'
"There are fewer opportunities for businesses to invest than there was before, so we should be at least maintaining our profile."
Directly elected Labour mayor Sir Peter said: "We're 100% committed to making sure we attract investment and work closely with partners in making sure we really can deliver the investment that our city needs.
"We are doing the work more effectively and at a lower cost."
Prospect Leicestershire, which had a budget of £1.5m mainly from central government with contributions from the city and county councils, was wound up in the summer two years after it was set up.
It lost its central funding due to cuts but had also lost local backing after being criticised for high staff salaries by Sir Peter.
Sir Peter said: "With the new government, the commitment to the regional development agencies, which provided so much of the funding, has completely gone.
"As a result of that, we and other councils are having to restructure the way in which we promote inward investment and regeneration."
The report said it was too early to say whether its successor, the Leicester and Leicestershire Enterprise Partnership, set up in April, was a success.
It goes on to state that even though job creation was one of the council's highest priorities, there had been no significant amount of extra money provided, or re-prioritising of current resources, in order to create jobs.