Farms in Leicestershire hit by arson attacks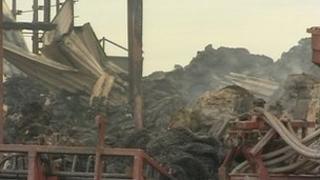 Farmers in Leicestershire are being advised to step up security following a spate of barn fires in recent months.
The fire service said out of 13 barn fires in the county and Rutland since July, eight had taken place in Hinckley and Bosworth, of which six were arson.
One fire at a farm in Desford caused £500,000 worth of damage and destroyed thousands of tonnes of straw and hay.
Fire officers are to visit farmers to offer advice on preventative measures.
Steve Robinson-Day, from Leicestershire Fire and Rescue Service, said he thought children might be responsible.
He said: "We're very concerned there seems to be a spate this year in the Hinckley and Bosworth area.
"I'm sure some of it is opportunistic - children passing by, deciding to play in the hay and they don't think of the consequences of what can happen."
Mr Robinson-Day said fire officers would visit farms over the next fortnight to offer advice about installing CCTV and fitting extra lighting.
He also said parents should make children aware of the dangers of starting fires on farmland.