Tributes paid to Mallory Park race crash passenger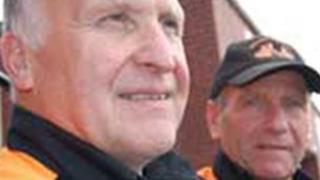 Tributes have been paid to a 61-year-old sidecar racer who died after suffering serious injuries at a Leicestershire racetrack.
Dave Wells, was involved in a crash during a race at the 16th International Sidecar Festival at Mallory Park, Kirkby Mallory, on Saturday.
The York racer was taken to Leicester Royal Infirmary, where he died from his injuries.
Driver Roy Hanks, from Birmingham, was also injured in the crash.
Sporting legend
Mallory Park's general manager John Ward said he was "one of the legends of the sport".
"He is going to be greatly missed by everybody, he was a fantastic character who loved his racing, loved his sport," he said.
He added that Mr Wells would have wished for the event to carry on.
"It's the done thing in motorsport", he said.
Mr Wells, a former winner of sidecar races at the TT (Tourist Trophy) competition in the Isle of Man, had taken part in all of the previous international sidecar festivals and was "well known among the sidecar fraternity", Mr Ward said.
An investigation is under way into the accident which happened at the circuit's Bus Stop corner during a Formula 2 race for 600cc class machines.