Leicestershire vodka farm: Four men found guilty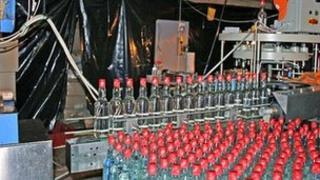 Four men have been found guilty of plotting to avoid paying £1.5m of duty on vodka they distilled on a Leicestershire farm.
John Humphreys, 46, of Edingley; Michael Matthews, 56, of Weston-super-Mare; Wojciech Herbst, 55, of Poland, and Mark Gyles, 48, of Nottingham, will be sentenced on 25 November.
They were convicted at Nottingham Crown Court of conspiracy to cheat Her Majesty's Revenue and Customs (HMRC).
Two men had already pleaded guilty.
James Fyfe, 41, from Arnold, Nottingham, admitted the offence before the trial started while Kevin Eddishaw, 54, changed his plea during the trial.
Stuart Bemrose, 43, and Dean Ironmonger, 50, were found not guilty of the charges.
Harmful effect
The court was told how an illegal vodka factory was hidden in an industrial unit on a farm near Little Dalby, in Melton Mowbray.
HMRC seized more than 9,000 bottles of counterfeit vodka, along with fake drinks brand labels and manufacturing equipment.
The jury heard that the men used pay-as-you-go phones so they could not be traced.
Andrew Pavlinic, assistant director of criminal investigation for HMRC, said: "Each year the revenue lost to alcohol fraud is around £1bn.
"Organised crime has a detrimental and harmful effect on all our communities and we are determined to disrupt and dismantle the illegal supply of alcohol in the UK."
Four of the men were from Nottinghamshire.
Kevin Eddishaw is from Handford Court, Southwell; John Humphreys is of Orchard Croft, Edingley; James Fyfe is from Furlong Avenue, Arnold, and Mark Gyles is of Belleville Drive, Nottingham.
Michael Matthews is of Stanley Grove, Weston Super Mare, Somerset and Wojciech Jan Herbst is from Poland.