Inquiry opens into rejected Shepshed incinerator plans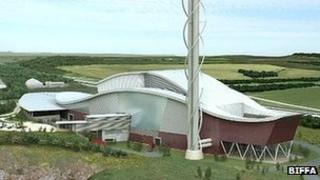 A public inquiry is being held into plans to build a waste incinerator in a Leicestershire village.
Leicestershire County Council has twice rejected Biffa's application to create a facility capable of burning 30,000 tonnes of rubbish a year near Shepshed.
The firm is appealing against the council's decision that the scale of plans for the former Newhurst Quarry site was "not appropriate".
Villagers opposed to the incinerator will attend the two-week hearing.
The authority first rejected Biffa's planning application last year and turned down a revised application a month ago.
'Minuses outweigh pluses'
Speaking after the decision, David Jennings, head of the county council's development committee, said the second set of plans had been almost identical to the first set.
He said: "There are some advantages, such as disposing a lot of waste, providing jobs and providing enough power to power 42,000 homes but the minuses far outweigh the pluses when you consider the size of the building."
The public inquiry will examine the council's original decision to turn down the plans.
After hearing evidence from both those for and against the development, the planning committee will submit a report to the secretary of state.
In a statement, Biffa said: "The Environmental Agency has already issued the required operational environmental permit for the plans.
"The granting of the permit shows that the regulatory authority is quite satisfied with all environmental health and pollution control measures that would be involved with the operation of the plant.
"All relevant evidence will now be heard and debated at the planning appeal public inquiry and we will await the secretary of state's decision after that."
The Charnwood Against the Incinerator Campaign (Chain) group said it was "incredible" Biffa was proceeding with the appeal after having its plans turned down a second time.