Leicester Cathedral clock fixed in time for Remembrance Day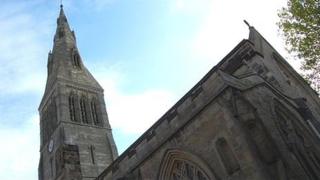 The clock on Leicester Cathedral has been fixed in time for Remembrance Day.
On 11 October, thieves had stolen about two to three metres of copper wiring from the tower which had stopped the four-faced clock from working.
The Dean of Leicester, the Very Revd Vivienne Faull said the clock has an important role to play on Friday because it signals the start of a minute silence on Armistice Day.
Leicestershire Police said no-one has been arrest for the theft.
'Keep the silence'
There were concerns the clock, which had fallen victim to a metal theft, would not be fixed in time for the 11th hour on 11 November.
Traditionally, the clock chimes at 11:00 GMT to mark a minute silence on Poppy Day, to remember the members of the armed forces who have died in the line of duty since World War I.
The Very Revd Vivienne Faull said people gathered at about 10:50 GMT at the cathedral on Remembrance Day "so we can all hear the clock chime at 11:00 GMT and then keep the silence together".
She said although the repair cost about £2,000 the clock was "now working perfectly".
"I've missed it, it had been stuck at about 17:30 for a week or three and its really good not just to have the hand on the clock go round, but the chimes back too," she said.
"Almost unconsciously people in our part of the city in Leicester listen to the quarters and the hour and its a framework for their life and routine."
The Diocese hopes the "special armour plated wire", which replaced the stolen copper wire in the tower, would prevent further thefts.
"It's cost a bit more than we had anticipated, we had to replace the whole run right up to the belfry and up to the clock tower," the Very Revd Vivienne Faull said.