Bone marrow donor event attracts 2,000 in Leicester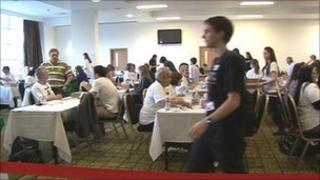 About 2,000 potential bone marrow donors have provided saliva samples at an event in Leicester to help a teenage girl and a local policeman.
Bethany Mickleburgh, 14, has leukaemia for a third time, and needs a transplant, and Insp Rik Basra has appealed to find a fellow Asian donor.
The samples provided will determine whether they are bone marrow matches.
The Anthony Nolan Trust said it had recruited more potential donors at the event than ever before.
Jenner Large, from the trust, said: "Hopefully from this event, at some point, matches will be found and it will only help us save more lives."
Donor shortage
The event took place at Welford Road, the Leicester Tigers rugby ground, on Saturday.
John Mickleburgh, Bethany's father, said: "It restores your faith in humanity - hundreds of people coming to help a little girl."
Insp Basra, who was diagnosed two years ago with acute myeloid leukaemia, needs a bone marrow transplant.
The best match for Mr Basra is likely to be an Asian male aged between 18 and 30, but there is a substantial shortage of Asian bone marrow donors on both the national and international registers.
His wife Kas said there has been a positive response to the appeal.
Mrs Basra said: "People [now] want to come on to the database, breaking down all the barriers and myth, the fears.
"I'm pretty amazed because that's happened in two weeks. We can do great things."