Reward boost to catch dog killer in Leicestershire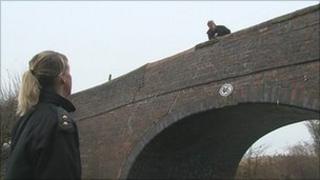 A reward for information about the death of two dogs in Leicestershire has been increased - despite the end of an investigation.
The two lurcher-type dogs were found hanged from a bridge in Congerstone on 30 January 2010.
The RSPCA said they had exhausted all lines of inquiry but would reopen the case if new information came to light.
But PETA (People for the Ethical Treatment of Animals) has raised its reward to £1,500.
PETA spokeswoman Mimi Bekchechi said: "This could hopefully bring the case back into people's minds. Anyone who ,did not hear about it the first time, hopefully they may hear about it this time and come forward.
"Somebody, somewhere must know something and it is absolutely imperative that anyone who does have information comes forward and contacts the RSPCA with the information and, of course, the RSPCA will follow up any leads they receive."
The dogs, one male and one female, were aged between 12 and 18 months and were wearing leather collars with no identification tags.