Bat droppings hit Leicestershire company's expansion plan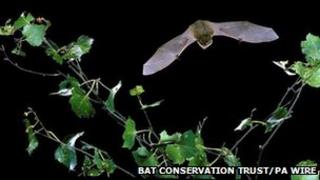 The discovery of bat droppings in an old coach house has cost a Leicestershire business about £8,000.
Enderby-based Throgmorton Associates' plans to convert a 300-year-old outbuilding to offices were revised after evidence of bats was found.
The mammals are protected by law because their numbers have decreased so quickly over the past 100 years.
Director Robert Rees said it had cost him a lot of money at a time when he was trying to expand his business.
Mr Rees said he had not seen any bats but was told that the droppings could be 12 months to three years old.
'Serious decline'
Blaby District Council recommended that he had a bat survey done, which cost £2,000, as part of the planning process.
"I'm sympathetic to the fact that we've got bats here," said Mr Rees.
"[But] the council should have someone in their offices who could conduct the survey at a much reduced cost, or at their expense."
Leicestershire County Council's senior ecologist Sue Timms said: "Bats are suffering a serious decline in their numbers.
"There is a fear that if the law doesn't step in and protect them and their roosting spaces, they will actually become extinct in Britain."
Ms Timms added that harming bats is a criminal offence.
Mr Rees said he had had to redesign the roof space of the building in order to accommodate the bats.