Leicester Royal Infirmary fire starter 'was insane'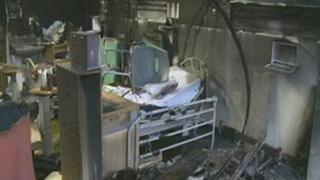 A patient who set fire to a Leicester hospital ward has been found not guilty by reason of insanity.
More than 100 patients were evacuated after a fire broke out at the city's Royal Infirmary on 5 May this year.
Justin Shephard, 40, of Brecon Close, Wigston, was charged with arson with intent to endanger life.
A jury at Leicester Crown Court agreed he started the fire but cleared him because he was legally insane at the time.
During the trial, doctors from both sides agreed Mr Shephard was in "an acute confusional state" at the time he set the ward on fire.
Supervision order
He had been admitted to hospital days earlier because he was confused, the court heard.
On the evening of 4 May, he became increasingly agitated and just after midnight made a pile of garments on Ward 8 of the hospital's Balmoral building.
He then set fire to the clothes with the aid of highly-flammable hand sanitiser gel.
The fire spread and five other wards, including a children's ward, had to be evacuated.
Mr Shephard burnt his hands but no-one else was injured in the incident.
The judge gave Mr Shephard a two-year supervision order on the condition that he received medical treatment.