Church prayers for Melton Mowbray police death family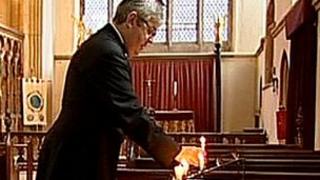 The family at the centre of an apparent murder-suicide have been prayed for at the church where they worshipped.
It is thought former police inspector Toby Day killed himself, his wife and youngest daughter just days after being sacked from the Leicestershire force.
Two other children were injured at the family home in Melton Mowbray on Thursday.
The congregation at All Saints Church, in Oakham, Rutland, were invited to "surround" them with prayers.
Before the service, Rev Canon Lee Francis-Dehqani, rector of All Saints, said: "We are deeply, profoundly, shocked and saddened by these tragic events and like all deaths they bring great sadness but particularly with these circumstances.
"I know the two older children particularly well because I prepared them for confirmation just six weeks ago and I am offering them all the pastoral care I can."
A statement read in church said: "You will be aware of the recent terrible tragedy at Melton Mowbray in which Toby, Samantha and Genevieve were killed, and Kimberley and Adam left with serious injuries.
"This family are part of our worshipping community here at Oakham and we surround them with our prayers this morning."
In his sermon, assistant priest the Reverend Hildred Crowther said: "As we pray for the souls of Sam, Toby and Genny, and give thanks for their lives and all that they meant to us, and to their families, we also thank God that Kimberley and Adam have survived and pray for them in this, the most difficult time in their lives.
"It is impossible for us to imagine their pain as they absorb the news that their lives will never be the same again."
Leicestershire Police have started a murder inquiry but have confirmed they are not looking for anyone else in connection with the attack.
It has also been confirmed Mr Day was sacked after a misconduct hearing on 1 December in relation to misuse of police computers.
The results of post-mortem examinations have not yet been released.