Mayor of Leicester Sir Peter Soulsby pays tribute to late wife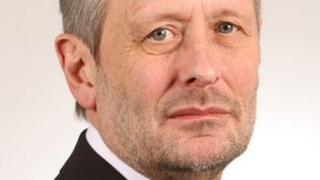 Leicester mayor Sir Peter Soulsby has paid tribute to his wife who has died following a short illness.
Mr Soulsby who was married to Lady Alison Soulsby for 42 years, called her his "rock" and thanked her for her support during his political career.
The couple, who met while at primary school, had three daughters and six grandchildren.
The former Labour MP said he and the whole family would "all miss her desperately".
'Ups and downs'
He said: "Alison has been my friend for 50 years since we first met at primary school. We married in 1969 when we were barely 20.
"In the last 42 years we have been blessed by three wonderful daughters and now by six grandchildren, all of whom are very close to us.
"In the ups and downs of my political career, Alison has been my rock.
"I've been supported by her love and strong socialist principles. She's always been there, always been loyal, always supported me.
"She hasn't always agreed with me but I have been enormously blessed to have her there by my side supporting me and my family.
"We will all miss her desperately."