Asian bone marrow donor event attracts 600 in Leicester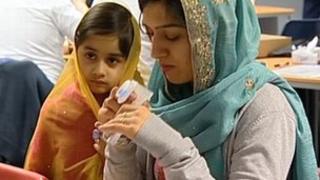 More than 600 potential bone marrow donors have provided saliva samples at an event in Leicester to help a police officer who has cancer.
The event was held at the Sikh temple on East Park Road for Insp Rik Basra, who was diagnosed two years ago with acute myeloid leukaemia.
Organisers said there had been a good response from the community.
The best match for Mr Basra, who needs a transplant, is likely to be an Asian male aged between 18 and 30.
Wife 'delighted'
Only 4% of people from an Asian background are currently registered as potential donors.
Jenner Large, from the Anthony Nolan Trust, said the event had been very succesful and she was hopeful of holding more in other areas.
She urged people to register online at the Anthony Nolan Trust's website.
She added that one of the reasons why people were reluctant to join the donor register was a lack of understanding about the process, which she said was no worse than giving blood.
Mr Basra's wife Kas said she was delighted that the message about a shortfall of Asian donors was finally getting through to the local community.