Mother Alison Taylor 'should have had blood test'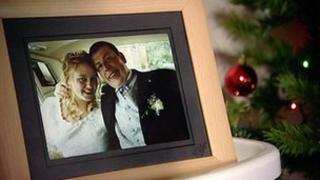 A doctor has admitted a Leicestershire woman who died 16 days after giving birth should have been offered a blood test, an inquest has heard.
Alison Taylor, from Syston, had an undiagnosed blood clot linked to her pregnancy, Rutland and North Leicestershire Coroner's Court heard.
The 29-year-old had complained of leg pain to her GP, to visiting midwives, and during a hospital visit.
She died from an undetected deep vein thrombosis (DVT) on 31 March 2010.
Husband Darren Taylor broke down in tears at the end of giving evidence at the hearing in Loughborough.
After the birth of her third child at St Mary's Birth Centre, Mrs Taylor complained of a pain in her leg but was sent home, the court heard.
Internal investigation
She went to her GP and was told it was probably cramp.
Mrs Taylor then ended up at Leicester Royal Infirmary where she was also examined but a DVT was not picked up.
Giving evidence, the doctor who saw her at the hospital's maternity unit on a Saturday said an ultrasound scan had not been given as they were not routinely available at a weekend.
He admitted that he did not understand the hospital's own guidelines and now knew that he should have done a blood test even if he had suspected that it was not a DVT.
The court heard that Leicester Royal Infirmary had carried out an internal investigation after her death.
It identified some problems with the delivery of care and a failure to follow guidelines and best practice.
Since the investigation, the hospital has ensured that ultrasound scans are available to patients in the maternity unit seven days a week.
The pathologist who carried out a post-mortem examination of the body told the inquest that Mrs Taylor had died of a pulmonary embolism that was a result of a blood clot that probably originated in her legs.
The inquest continues.