Leicester Royal Infirmary sorry for operation delay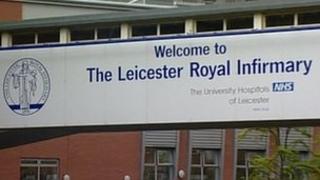 A hospital trust has apologised to a woman from Leicestershire who is still waiting for an operation four months after she was due to receive treatment.
Joy Fellows, from Burton-on-the-Wolds, was sent home from Leicester Royal Infirmary in August after the surgery timetable overran.
She said she has been unable to work since due to the pain caused by a hernia and a gall bladder condition.
Mrs Fellows has now been told her operation is scheduled for 31 January.
'Fobbed off'
A statement from the University Hospitals of Leicester NHS Trust said: "Unfortunately Mrs Fellows' operation was rearranged because her surgeon was needed to operate on extremely poorly patients.
"Although Mrs Fellows does not require emergency surgery, it is a complex case and has been allocated to a surgeon with specific expertise and experience."
The trust said it had apologised to Mrs Fellows for the distress caused by the delay.
Mrs Fellows, who suffers from Crohn's disease, said she was not confident that her operation would take place in January.
She said: "I'm starting to get very anxious about the whole thing because it has gone on for so long now and I've been fobbed off so many times.
"I was first admitted on the 23 August and was sent home after 11 hours because they had run out of operating time," she said.
Mrs Fellows, who works for the NHS, said she was not concerned at the time because she appreciated delays sometimes happened.
But said she was not happy that it had taken so long for the hospital to make her a new appointment.