Leicestershire lead thefts 'could shut churches'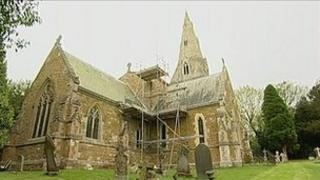 A surge in lead thefts in Leicestershire is so bad it could close churches, it has been claimed.
According to police, in 2005 there were no local church lead thefts, in 2006 there was one but in the 12 months to September there were 83.
Church authorities said some insurance policies have not kept pace with the problem and now limited claims.
They added the extra cost could force buildings to close and damage "a whole way of life".
David Newman, Archdeacon of Loughborough, said the thefts had an impact on two levels.
"You can feel as if something important and precious to you has been vandalised and treated very badly.
"But of course for many churches, particularly perhaps small rural churches. there is a huge financial impact."
Conservation rules
The Rev Sharon Constable is team vicar for five churches in the Melton area - including Burton Lazars which has been targeted three times.
She said the churches' insurance had a claim limit of £5,000 a year.
"That is the tip of the iceberg," she explained. "They have lost thousands and thousands of pounds worth of lead, not to mention the damage inside, but they still only get the £5,000.
"So you are in the position that churches my close because the congregations cannot afford to make up the extra to repair their church."
She added: "A whole way of life is being eroded. The thieves may just think 'The insurance will cover this'.
"But they are destroying a historic building and affecting a whole village."
Police, English Heritage, Crimestoppers and ecclesiastical insurance companies have held seminars advising churches on security measures.
But some communities have said conservation rules limit what alternatives to lead they can use on their churches.
Michael Covington from Little Dalby said it had been difficult to reroof their church, St James, after an attack.
"It looks like we will get permission to use stainless steel but we couldn't use GPR, a fibreglass material.
"English Heritage have said they don't like it for aesthetic reasons and they don't have proof of durability - but we wouldn't of course because we haven't had it long enough."
A spokesman for English Heritage said: ""Every case is assessed on its merits but we appreciate that there will be instances when a change of material will be appropriate.
"After a theft, in some situations, a durable replacement such as terne coated stainless steel or tiles, might be the most prudent way to repair the building.
"In some circumstances temporary coverings may be necessary whilst a longer-term solution is identified and funded, but support for the use of plastic or other non-traditional materials in listed places of worship would be exceptional."