Woman jailed over abuse of vulnerable man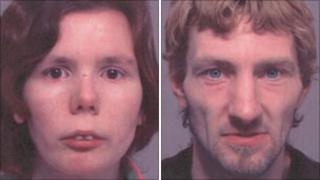 A woman who subjected a vulnerable man to "prolonged" abuse at a house in Leicester has been jailed indefinitely.
Amanda Ford, 25, of no fixed address, who herself has learning difficulties, beat and sexually humiliated the man in his 20s over a nine-month period.
Ford was deemed the ringleader of four adults who lived at the Shaftesbury Avenue house and punished the man for failing to carry our chores correctly.
At the Old Bailey, Ford was told she must serve a minimum of five years.
Mark Martin, 34, also of no fixed address, was given an indeterminate sentence for public protection for two sexual assaults, with concurrent sentences for other assaults. He must serve a minimum of four years.
Det Con David Tunnicliffe from Leicestershire Police said the abuse the man was subjected to was "really nasty".
"If he failed to do his chores to the correct standard, he'd be beaten, was thrown in the canal, thrown down the stairs, and made to stand in a star shape while he was repeatedly kicked between the legs.
"He was also set on fire [after being doused with after shave] and forced to engage in sexual activity with a man."
Sentencing, Judge Charles Wide said to Ford: "Your domination of the house was extraordinary.
"It paints a picture of misery. He was treated as a skivvy and made to do housework. When it was not good enough, he was violently assaulted by you."
'Prolonged abuse'
In September Dawn Sivills, 28, of Taragon Road, Leicester, another one of the four who shared the house, was found guilty of one count of actual bodily harm and given a 12-month prison sentence, suspended for two years and a supervision requirement, at Northampton Crown Court.
Fellow tenant Paul Machin, 29, of Fosse Road, Leicester, was found guilty of two counts of assault by beating, and was given a 12-month supervision requirement. Machin also has learning difficulties.
Det Con Tunnicliffe said it had been a challenging case.
"The abuse was prolonged and lasted for the best part of a year," he said.
Right and wrong
Det Con Tunnicliffe said all four of those convicted had learning difficulties or mental illnesses but Ford knew what she was doing was wrong.
"Amanda, the ringleader, took all their benefit money so anything the victim needed, food etc, had to be purchased by her. He saw them as his friends, he was very dependent on them.
"Although Amanda has learning difficulties, she knows the difference between right and wrong.
"It was an awful series of crimes and abuse against a person who was defenceless and really couldn't get out of his situation," he said.