Loughborough man completes marathons over Christmas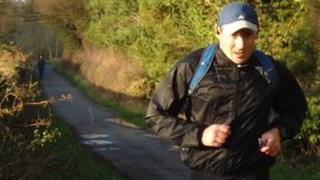 A Loughborough runner has completed seven marathons in seven days in aid of the British Heart Foundation.
Simon Cole, 37, began his challenge to run 183.4 miles in a week on Christmas Eve.
Mr Cole, finished his final race at Rutland Water on Friday. The other 26-mile runs were all completed at locations across Leicestershire.
He said he was overjoyed to have finished and would now be putting his feet up.
"We've been over at Rutland Water basically it's a lap and a bit of it.
"We had a bit of a panic because the satellite watch I was wearing to check the distance was running low on battery, so I literally sprinted the last two miles.
"My quads were burning but I managed to get over the line and we've opened a bottle of champagne to celebrate," he said.
Mr Cole said he was inspired by comedian Eddie Izzard, who ran 43 marathons in 51 days in 2009, and Sir Ranulph Fiennes, a holder of several endurance records.
The marathon runner has raised more than £1,000 for charity.