Funds raised for Toby Day police deaths family children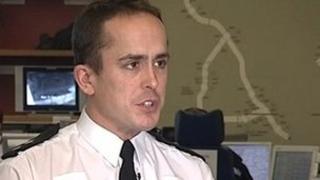 Organisers of a fund for the children of a former police inspector, thought to have killed his wife and daughter, said the response has been "terrific".
Toby Day, 37, from Melton Mowbray, Leicestershire, is thought to have attacked his family before killing himself on 8 December.
Mr Day had been sacked from the Leicestershire force after a misconduct hearing on 1 December.
Michael Cook, editor of the Melton Times, said £5,000 had been raised.
The money will be used to help the family's two surviving teenage children.
"In a way, money solves absolutely nothing. It doesn't change anything and doesn't bring anyone back," said Mr Cook.
"But both children are bright and on track for university and you have to think of all the things their parents would have provided for them in the future and that's not going to happen now.
"It has been a terrific response. Even if it just helps a little, I think that's all that really matters," he added.
Inquest pending
Mr Day's wife and youngest child, named locally as Samantha and Genevieve, six, were found dead at the semi-detached family home.
His two older children, named locally as Kimberley, 15 and Adam, 13, were also injured but are said to be recovering well.
A Leicestershire Police spokesperson said Mr Day was sacked following a misconduct hearing for misuse of police systems and matters concerning honesty and integrity.
Police started a murder inquiry but have confirmed they were not looking for anyone else in connection with the attack.
An inquest into the deaths was opened on 12 December and adjourned pending further inquiries.
The fund, organised by local newspaper the Melton Times, has received more than £5,000 in donations in just under two weeks.
"It is quite heart-warming, that even with the darkest tragedy that has occurred, something good can come out of it," added Mr Cook.