Leicester stamp charity girl gets record donation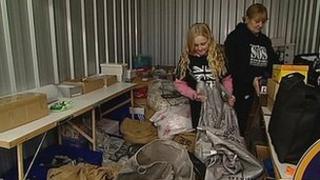 "I just couldn't believe it" said fundraiser Alex Windram, 10, when she saw her record donation. "When I walked in the room I was just 'Oh my God!'."
Alex, from Leicester, has raised thousands for charity Support Our Soldiers by collecting stamps, but the new windfall came out of the blue.
The family of a collector handed over 24 sacks of stamps and, while they are yet to be valued, by sheer weight alone are worth about £1,000.
"There are foreign ones and British ones and some of them are quite old, from 1973 and 1937," Alex added.
A dealer is coming to fully value the collection at the end of the month.
Welfare parcels
Such is the quantity involved that Alex and her aunt Amanda Crowden, who runs Leicester Support Our Soldiers, have had to make use of a donated storage container.
Ms Crowden said: "Nowadays lots of things are franked and you don't get so many stamps.
"So if we got a carrier bag full then we were amazed but this is phenomenal. I have never seen anything like it, it looks like we are in the Royal Mail."
The charity sends out welfare parcels to soldiers but also works with families left in the UK and injured soldiers during rehabilitation.
Award winner
Last year Alex collected about 500,000 stamps but now aims to expand her appeal.
"I am making a box to put stamps in and will give it out to companies so they can collect stamps," she said.
"We hope to make and send out as many as we possibly can.
"I want to say thank you to the people who donated the stamps and everyone who has given us stamps.
"But I know if we try we can collect even more."
Last year Alex became the youngest person to be awarded the title of Honoured Citizen of Leicester and had earlier received the Braunstone Community Champions Award.