School walk 'unsafe' for Humphrey Perkins pupils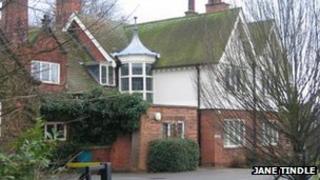 Pupils expected to walk a "dangerous" route to school will test out a train service on Monday for the first time.
It comes after Leicestershire County Council withdrew the free bus for children in Sileby who attend Humphrey Perkins School, in Barrow Upon Soar.
The council decided the three-mile walk between the villages was safe after it cut back overgrown foliage which forced children to walk in the road.
But head teacher Peter Nutkins said the route was still "extremely dangerous".
'Just crazy'
Mr Nutkins said: "They are arguing it is reasonably safe. However, when I walked it with David Parsons, the leader of the council, it took us an hour and a quarter, along a busy road.
"There are pavements less than a metre wide, pot holes, ditches, and that is what the local authority says is reasonable for our children to walk on. It's just crazy."
The school has 900 pupils and 51 of those live in Sileby.
For decades Sileby pupils were able to get a free bus to school, because Leicestershire County Council has to provide transport for pupils who live more than a three-mile walk from their nearest school.
However, the council re-measured the route about 18 months ago and found that it was slightly shorter than three miles.
Foliage trimmed
The council continued to provide transport because of foliage over footpaths which meant children would have to walk in the road for part of the journey, making it unsafe.
But the authority trimmed back the foliage last summer, re-assessed the route as safe, and the free bus service ended when the pupils broke up for Christmas.
Mr Nutkins has now negotiated a deal with East Midlands Trains allowing the pupils to travel between Sileby and Barrow for about 50p per day. Normally a return ticket for a child would cost £1.10.
The school may move its school day back by half an hour in order to better accommodate train times.
Mr Nutkins said: "We will have to consult the parents but it's something I'm prepared to do."
David Parsons, leader of Leicestershire County Council, said: "We take safety issues seriously and have carried out three thorough assessments, including one after the clocks went back. We understand the worries of parents but would stress that these show there is a suitable walking route."