Leicestershire Police concern over drink-drive arrests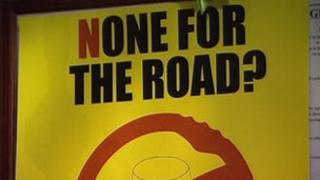 Police in Leicestershire and Rutland have said they are very concerned about the large number of drink driving arrests over the festive period.
Officers arrested 119 motorists between 1 December 2011 and 1 January 2012 after testing positive for excess alcohol or drugs.
Police said 34 of the arrested drivers were under the aged of 25.
Senior road safety officer Graham Compton said young drivers in particular were a "problem".
He said more young people were drinking and driving compared with a few years ago.
"That is an emerging problem for road safety partnerships and we've obviously got a lot of work to do with our young drivers to get the message across to them that it's not funny to drink and drive", said Mr Compton.
"It could affect their lives and they could lose their livelihood as a result of it."
More than 90% of those arrested during the force's None for the Road campaign were men, many had already been involved in crashes before they were caught, said police.