Meths bleached at Leicestershire farm to make fake vodka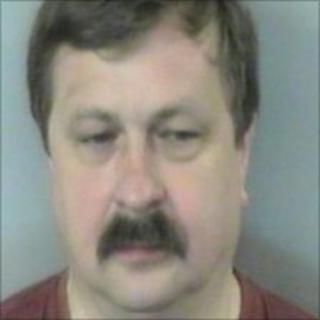 A gang member who bleached methylated spirits to pass it off as vodka has been sentenced in his absence.
Wojciech Jan Herbst, 55, was given a two-year prison sentence and a European arrest warrant is being issued to extradite him from Poland.
He is the sixth and final man to be sentenced for manufacturing fake vodka at a remote farm in Leicestershire.
He was convicted in his absence after failing to return to the UK for his trial.
Simon De Kayne, assistant director of criminal investigation for HM Revenue and Customs (HMRC), said: "His gang would have known they were putting this highly toxic product into a bottle for human consumption.
"However, they were only interested in lining their pockets, with no regard for the health of consumers or the safety of those working at the unit or for the local environment."
Herbst, from Poland, was convicted at Nottingham Crown Court of charges of conspiracy to cheat the revenue and sentenced on Monday at Hull Crown Court.
HMRC described him as the "chemist" behind the operation, which they estimate cost the public finances £1.5m.
Four other men have been jailed for their involvement and one man was given a suspended sentence.
Methylated spirits, or denatured alcohol, is used as a solvent and contains hundreds of additives. It is coloured purple to distinguish it from drinkable alcohol and is not fit for human consumption.
Herbst developed a method of making the alcohol clear with bleach before diluting it to the required strength.
In November, John Humphreys, 46, of Newark, and Michael Matthews, 56, of Weston-super-Mare, were convicted of conspiracy to cheat the revenue.
James Fyfe, 41, from Nottingham, and Kevin Eddishaw, 54, from Southwell in Nottinghamshire, admitted the offence.
Eddishaw and Humphreys were both jailed for seven years at the hearing at Hull Crown Court, while Matthews, who printed labels and boxes, was given an 18-month sentence.
Fyfe, of Furlong Avenue, Arnold, who ran the production line was sentenced to 16 months in prison.
A sixth man, Mark Gyles, 48, of Belleville Drive, Nottingham, who transported the goods, was given a one-year sentence, suspended for 12 months, and ordered to carry out 300 hours of unpaid work.
The trial heard the illegal vodka factory was hidden in an industrial unit on a farm near Little Dalby in Melton Mowbray.
The alcohol vapour alone could have triggered a major explosion if the lights had been switched on or a naked flame or cigarette had been lit, the court heard.