Leicester Royal Infirmary posts A&E updates on Twitter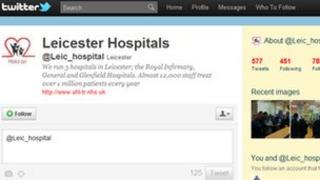 A Leicester hospital is using Twitter to highlight the pressures on its emergency department.
Staff will tweet updates from Leicester Royal Infirmary's accident and emergency unit from 08:00 to 18:00 GMT.
A hospital spokesman said the tweets would show the illnesses staff saw and highlight the delays and inconvenience non-emergencies could cause.
He said patient confidentiality would be maintained and no personal information would be used.
David Anderson, manager from Leicester's Hospitals Emergency Department, said: "This is really new for us, we've never taken to social networks before to give people an insight to what we do every day.
"For us it is just another day at work, but sharing what we face in a busy city centre emergency department might change people's attitudes and perceptions.
"Ultimately what we want to do is make sure people only use us when they need to, in an emergency, and that they are aware of other health services available to them."
Members of the public can follow activity from the day by searching for #choosebetterllr on Twitter.