Leicester Royal Infirmary uses Twitter to highlight A&E pressures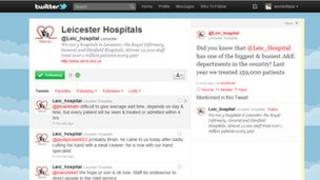 Leicester's hospitals have used Twitter to highlight the pressure put on their A&E departments by non-emergency patients.
Staff posted messages to show the range of illnesses seen by the departments and to advise patients where they should have gone for treatment.
One tweet read: "Patients often come here if they have been refused antibiotics by their GP".
Another said a patient turned up at A&E with a cold and mild pain.
Although other tweets highlighted more serious cases:
One was about a man who had cut his hand with a meat cleaver, another announced that 11 ambulances had just arrived.
Leicester Royal Infirmary said between 20-25% of patients who visit A&E should have used another service.
The hospital said the 10-hour social networking event had been about helping people to make the right choice.
Head of communications, Tiffany Jones, said: "We know it can be difficult when you're faced with something, but if you have an understanding of the health system you can make the right decision."