Dancer Ann Oliver 'devastated' by MBE medal theft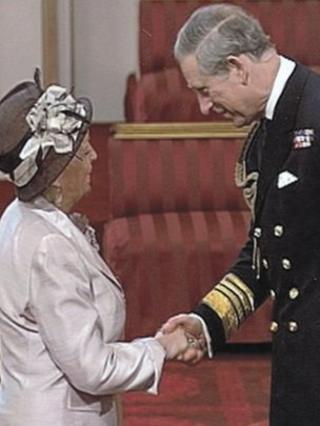 A dance school founder has been left devastated by the theft of her MBE medal during a robbery at her Leicestershire home.
Thieves broke into the home of Ann Oliver and took jewellery worth more than £21,000 along with the MBE medal she was awarded in 2007.
She began The Ann Oliver Stage School, in Leicester, more than 50 years ago.
Miss Oliver, aged 71, said: "It's devastating, I can't explain the effect it's had on me and my husband."
The theft took place sometime between 17:30 and 20:45 GMT on 19 January from her house on the A47 near Houghton on the Hill while she and her husband were at a show.
Miss Oliver was presented with her MBE medal, awarded for services to the arts, by Prince Charles in a ceremony at Buckingham Palace.
The medal was mounted on a brooch, and in a black box with a dark lining.
'Extremely distressed'
She said: "The medal is not of great value but it is to me. It took me 52 years to get it.
"It's very precious to me. It [the robbery] has really taken the stuffing out of me."
Other distinctive items taken included a Queen Mother replica silver brooch, an antique black choker with crystal droplets, a gold chain with a heart locket, a gold orchid necklace, brooch and earrings, a silver starfish necklace and a three-diamond ring.
Det Con Jess Rippington, of Leicestershire Police, said: "The victim has been left extremely distressed by the incident and is very keen to get the MBE medal back as it's of great sentimental value to her.
"The medal is different to the male version as it has a bow above it.
"We would appeal to anyone who has come across any of the stolen items or has been approached by someone selling them.
"We would also urge anyone who saw any suspicious activity on the A47 just north of Houghton on the Hill to come forward, especially any vehicles not usually seen in the area."
Miss Oliver also founded the Leicester College of Performing Arts and in 1972 formed the British Theatre Dance Association.