Motorists warned over icy roads in Leicestershire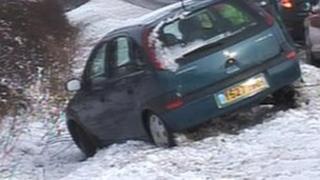 Highways officials in Leicestershire have asked motorists to travel only if necessary after the recent snowfall.
Up to four inches (10cm) of snow fell across the county over the weekend.
Leicestershire Police said there had been no major incidents on the roads but there was some disruption as a result of lying snow.
The city council said main roads were gritted throughout Sunday night and minor roads were treated on Monday.
East Midlands Airport said it was operating as normal and there were only three reported school closures in the county on Monday.
The city council said pavements in the city centre had been cleared as well as those near hospitals and schools.
Councillor Rory Palmer, Leicester deputy city mayor responsible for transport, said gritting teams were "hard at work over this cold period, and will continue to ensure the city's principal roads are open to traffic".
"However, some side streets and minor roads do not get gritted, so I'd encourage people to still take extra care when out and about," he added.