Queen's Diamond Jubilee: Leicestershire crew in river parade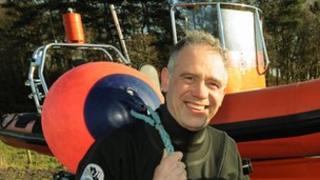 A French polisher who helped restore Windsor Castle after it was damaged by fire is to take part in the Queen's jubilee celebrations.
In his spare time, Adam Waters, 43, of Kibworth, Leicestershire, is a diving officer with Leicester Underwater Exploration Club.
The club, a branch of the British Sub-Aqua Club (BSAC), will be part of the flotilla on the River Thames on 3 June.
The pageant is one of the events to mark the Queen's Diamond Jubilee.
Mr Waters said he was "overwhelmed" that the club had been selected to take part.
"I heard about it on the radio and felt it was important that our club and BSAC in general were represented", he said.
"I came straight home and went to the computer to apply."
'Noble' event
After the fire at Windsor Castle, in November 1992, Mr Waters and his company were called to restore all the ancient, damaged wood panelling including work in the Lantern Room and St George's Chapel.
Mr Waters said: "Windsor Castle is everything you would expect it to be. It is very beautiful and full of some wonderful English oak but everything is there for a purpose despite the fact it all looks so grand."
However, he said his royal contracts had had no bearing on the club, based in Aylestone, being selected to be part of the pageant.
"There were no internal connections and none mentioned.
"It was entirely down to the work of the club. We go to every coast in the isle to help maintain the country's heritage.
"There are no more deserving people than those who quietly get on with the voluntary work that comes with running any branch of the BSAC."
Leicester Underwater Exploration Club's boat, known as Vixen, will be one of about 1,000 vessels in the Thames Diamond Jubilee Pageant led by the Queen and members of the Royal Family aboard the royal barge.
Mary Tetley, BSAC chief executive, said: "It was a wonderful idea to put the dive club forward to be part of the flotilla.
"I am so pleased they have been successful and BSAC will be represented in this noble and historic event to mark the Queen's Diamond Jubilee."