Rutland Water reservoir levels 'worrying'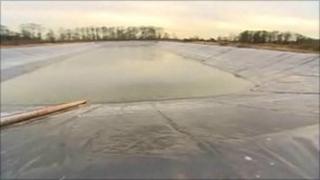 A reservoir which supplies homes in Leicestershire and Rutland is worryingly low, a water company has said.
Rutland Water reservoir is currently under 70% capacity, according to Anglian Water.
It comes after two dry winters and a lack of rain in summer and spring, the Environment Agency said.
Anglian Water said if there continued to be little rain restrictions were likely to be introduced.
Conserve water
The Environment Agency granted the water company a drought permit to take extra supplies out of the River Nene in December but John Clare, from Anglian Water, said it might not be enough.
"The problem is that there's been so little rain that the water simply isn't in the river to take," he said.
"While we've been able to halt the decline we haven't been able to solve the problem. The solution is rain."
Mr Clare said he believed the situation was likely to get worse as summer approached.
"The worry is when you come to the warmer months demand traditionally increases. This is when we see levels drop quite quickly," he said.
The Environment Agency has said there could be national water restrictions unless there was heavy prolonged rainfall before April.
Anglian Water is calling for users around the reservoir to conserve water where they can.