Leicestershire councils to cut 1,600 jobs after budgets agreed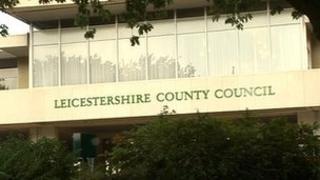 Leicestershire county and Leicester city councils have agreed to cut 1,600 jobs between them as they approved their budgets for the coming years.
The Conservative-run county council has confirmed 1,000 jobs will be lost to save £74m over the next four years.
The authority said it would freeze its share of council tax for another year.
While the Labour-run city council has agreed to axe 600 jobs and increase its share of council tax by 3.5%. The authority aims to save £40m by 2015.
'Significant benefit'
The county council said £25m of its £74m target would be cut from services, with the remaining £49m from efficiencies.
David Parsons, county council leader, said: "We have now frozen council tax for two years and plan to freeze it for a further three years.
"Compared to inflation, this will save the typical council taxpayer £600 over the five years. This is a significant benefit in such difficult times."
The authority said the cuts were needed due to a nearly 40% reduction in government funding and an increase in demand for key services.
Money would be spent in areas such as vulnerable children and adults, boosting recycling, supporting troubled families and promoting public health, the county council said.
About 100 union members held a protest outside the city's Town Hall Square ahead of Leicester City Council's meeting to finalise its budget.
To save £40m over three years, the authority will make changes to its services in road maintenance, libraries and museums and reorganise its children and young people's service.
'Weaken Leicester'
Most of Leicester's day care centres are set to close, burial fees will rise and rent for council tenants will also increase.
Unison said cutting jobs and services would "weaken Leicester".
Gary Garner, from the Leicester branch who was among the demonstrators, said tens of thousands of postcards had been printed and sent to the city mayor and local MPs campaigning against the city council's planned budget cuts for the forthcoming years.
City Mayor Sir Peter Soulsby said this year's was the "most difficult budget in decades".