Oldest wall at Leicester's Abbey Park is defaced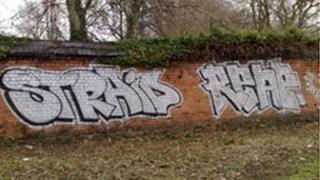 Police are asking for help to identify a large graffiti tag which was sprayed across a wall at an award-winning park.
The words STRAID REAP were sprayed across the oldest wall at Abbey Park, in Leicester, between 12:00 GMT on 17 February and 12:00 GMT on 20 February.
Police believe it must have taken at least an hour and they hope someone will have seen it being sprayed.
PCSO Clare Bradley said it would be difficult to remove the graffiti without damaging the wall.
"Because the wall is so old it's going to take a lot of time, money and effort to remove the paint without damaging the mortar," she said.
The park regularly wins the Green Flag award.
PCSO Bradley added: "The wall is the oldest and most historic at the park and local residents and park users will be really upset to see it has been damaged."
She asked people who recognise the tag to contact Leicestershire Constabulary.