Mother of crash victim welcomes Loughborough speed camera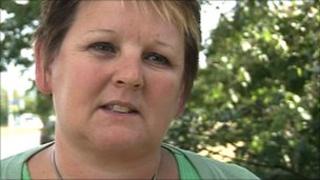 The mother of a woman killed in a car crash hopes a new speed camera will prevent more deaths on the same road.
Becki Holwell, 20, was in a car being driven by her boyfriend Ben Crossley when she was killed. He was jailed for causing death by careless driving.
Her mother, Julie Holwell, petitioned Leicestershire County Council for a camera but it was turned down in 2010.
A speed camera has now been installed on the stretch of the A6 between Loughborough and Quorn.
"Since Becki's accident there has actually been another death on the road as well so I think that made the council actually sit up and listen to what I was saying all along," said Mrs Holwell.
'Save lives'
"I told them that if they didn't do anything that I thought somebody else would die on this road and it has happened.
"I wish they'd listened before. They didn't but at least they've listened now and it's great so let's hope that we can save lives now."
Leicester, Leicestershire and Rutland Road Safety Partnership, which represents members including the county council, said the camera had been installed because of a number of factors.
Spokesman Jonathan Clarkson said: "The safety camera partnership will only install cameras as a last resort at specific sites.
"The camera at Loughborough's One Ash roundabout has been installed as a result of taking into account the accident records of the site along with the recorded speeds of motorists."
Becki, a hairstylist from Mountsorrel, was being given a lift by her boyfriend on 26 August 2008 when his car spun out of control and hit two trees. He was jailed for two years.
Mrs Holwell said: "Part of me is still very sad and upset about it but I'm very happy as well that we've actually achieved it and hopefully it will help to save another life.
"Rebecca would be so proud. I know she's always with me, she always will be."
Mrs Holwell said she plans to do voluntary work educating drivers about the dangers of speeding.