Baby boom prompts Leicester midwife drive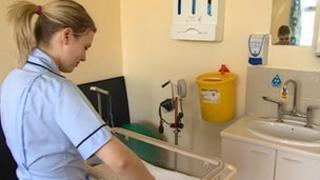 A baby boom has prompted two hospitals in Leicester to increase bed space and launch a recruitment drive for more midwives.
The Leicester Royal Infirmary and the Leicester General Hospital were both full to capacity for a three-hour period earlier this year.
During 2011 they delivered a total of almost 11,000 babies.
Senior midwife Gemma Bosio said: "It is extremely rare, but everybody came in at the same time".
"We ran out of beds and midwives to look after the women safely."
The hospitals currently have 84 maternity beds, 24 delivery suites and 334 midwives.