Call for Leicestershire council leader expenses debate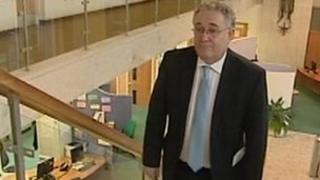 The future of a council leader at the centre of an expenses probe should be discussed at an extraordinary meeting, according to opponents.
Leicestershire County Council's Tory leader David Parsons has spent £210,000 on travel in six years, including the use of a chauffeur-driven car.
Labour councillor Max Hunt has called for an extraordinary meeting and Lib Dem leader Simon Galton has backed him.
The council leader said the call for the meeting was "premature".
A BBC freedom of information request revealed the amount spent on Mr Parsons' travel.
'Unpleasant business'
He has denied any wrongdoing and told the BBC he would no longer use a chauffeur and would take the train more often.
Mr Parsons said in a statement: "I have always been a thorn in the side of the Labour and Liberal parties.
"I am calling for the council's external auditors to examine the freedom of information response. It in no way represents my expenses as leader of Leicestershire County Council and doesn't even say how travel costs have been calculated.
"The call for an EGM is therefore premature and not based on fact."
Mr Hunt said: "He has to go - it is an unpleasant business and we don't like doing it, but it would be better if David stepped down.
"The (chauffeur-driven) car is only one of many things - there are lot of things we have to complain about and they have all come together at one time."
European role
In a separate case, Mr Parsons has also been accused of not promptly repaying money he owed for trips to Europe in 2007.
Mr Parsons has denied wrongdoing on that issue and said all the debts have now been paid.
The allegations were over expenses claims for travelling to and from Brussels as part of his role on the Committee of Regions, a group which comments on EU policy and legislation.
The case has been referred to the council's standards' watchdog which examines members' conduct and behaviour.