Diamond Jubilee square plan criticised by traders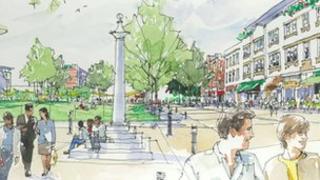 Some traders in Leicester have criticised city council plans to spend £4m on a new square.
The authority has put forward proposals to build the new Jubilee Square at St Nicholas Place.
But firms on Granby Street - at the other side of the city centre - said a similar scheme in 2011 had not helped, and several stores had closed.
Mayor Sir Peter Soulsby said the Jubilee Square project would boost tourism.
"The city council has invested quite heavily in the city centre and it is vitally important it continues that investment.
"The Jubilee Square area is right at the heart of the historic Roman and medieval town. It's an opportunity to reconnect the retail heart with the old town," Mr Soulsby said.
'Lose trade'
But Fabio Rosalo, from the San Carlo restaurant, said he was angry that £4m was being spent on a new square instead of being used to help traders.
"The city is not just the High Cross and around that area and I don't know why they are concentrating on that."
He said the £1.8m Granby Street Gateway scheme, which was completed in 2011, has had a detrimental effect on their businesses.
"I had a lot of people contact me while the roadworks were going on saying I'm sorry we can't reach you and we're going somewhere else.
"Now the left turning into Granby Street from London Road is gone and that too is making me lose trade."
Mr Soulsby said: "I remember when the investment was taking place in Granby Street two or three years ago there were complaints from people elsewhere in the city saying they were neglected and it was their turn.
"It has yet to see the full effect of the investment the council's put in there."
The city council is bidding for cash from the European Regional Development Fund for the square, which will be named Jubilee Square to mark the Queen's visit to the city on 8 March.
Mr Soulsby said a consultation would be carried out on the design of the new square and gardens.